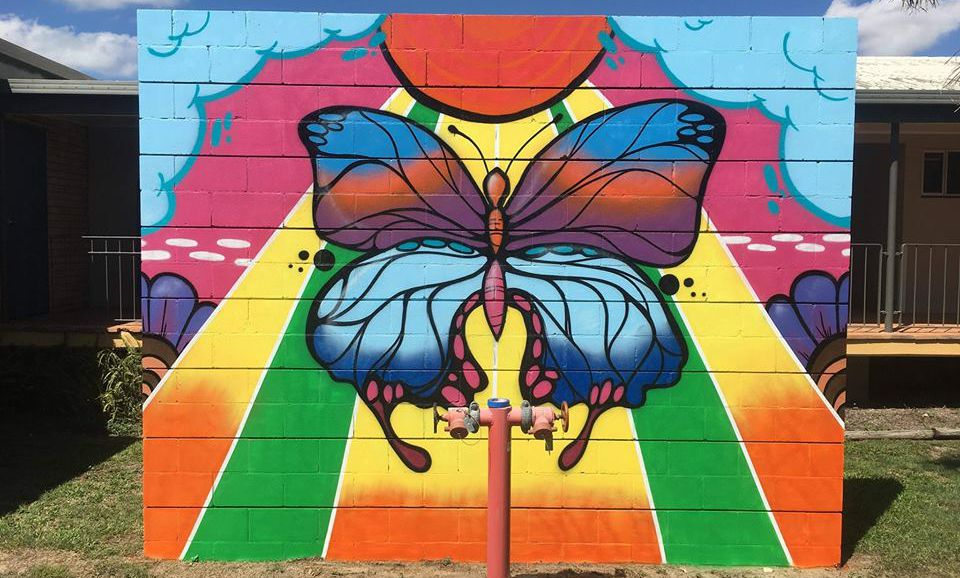 A stunning colourful butterfly mural now adorns a wall at cancer treatment facility Genesis Care in Bundaberg.
The public art was requested to help brighten the mood of people visiting Genesis Care at Mater Hospital for oncology.
Artist Jamie Kirby completed the work through his involvement with the Urban Art Team.
A team spokesman said since time immemorial, butterflies have held a special place in people's spiritual lives.
"Their natural life cycle provides us with powerful insight and spiritual teaching, allowing us to open our eyes to life's equally natural cycles," the spokesman said.
"The butterfly is special to Genesis Care, for after people have finished their treatment they place a butterfly on the wall for new hope.
"The other side of the wall, also painted by Jamie Kirby, is to brighten the view for patients on the Mater Hospital side.
"Bright colours boost moods; colour therapy has been practised in traditional healing professions for many years."
After learning the the ropes of graffiti in Bundaberg in 2012, Kirby dived head first into the world of murals and street art.
Self taught and heavily driven with a few tips and tricks from some extremely talented people, he has grown his style into what it is today.
With a passion for a cartoon style and anything more challenging than the last, he endeavours to push it as far as it can possibly go.
Now living in Toowoomba and travelling up and down the coast, Kirby is hunting for and painting more walls than ever.
He plans to travel overseas and prove to people that what he creates can affect small business and communities in positive ways.