Sports columnist Vince Habermann writes about the hockey deciders, AFL, rugby league, football, cricket, racing and greyhounds.
All Blacks stalwart goalkeeper and first-year Bundaberg Hockey Association president Des Barritt was not surprised when they defeated hot favourites Waves Cities 4-3 in the men's grand final on Saturday to complete fourth straight titles for the first time in their 49-year history.
Cities had trounced All Blacks 7-2, 7-1 and 4-2 in their three round meetings in this COVID-19 shortened season and they also won their other matches, chalking up 47 goals while conceding just 12 across those eight games.
History repeated as the Blues fell at the last hurdle at the hands of the men in black for the fourth year in a row.
"It was close throughout and they got a corner right at the end, but I got it with the glove, so I was pretty happy," Des said.
"It might have come down to who wanted it more, but we did have a fair bit of experience with the likes of (player/coach) Rick Elder, Peter Austin, Shaun Leather, who started as a four-year-old 38 years ago but this was his first year back in the team after returning home after all these years, and we also had all the experience of Ben Neller at the back."
It was a perfect swansong for Rick, who has also coached the team to their four-peat, but will be moving to Mackay to start a new job shortly, so someone else will have to take the reins in 2021.
Des, 56, who has played for the club throughout his hockey career since starting at the age of nine but missed eight years while living in North Queensland and was the reserve keeper for the 2018 grand final, said six other players beside himself had the distinction of also playing in last year's decider – Rick, Ben, Player of the grand final Nathan McGill, captain Dale Veivers, Tristan Turner and Brandon Christensen.
This one was extra special to him as he played along-side his 15-year-old grandson Isaac Wales, who scored what ultimately proved the winning goal.
"This one was up there with the best of them, to be such a close game and that Cities had dominated all year but to come out on top of them, playing with my grandson and three nephews was pretty good, and who knows how many more I might get the chance to play in," Des said.
All Blacks' previous best run of Division 1 men's premierships had been three in a row from 1992-94 but they have dominated the last decade, winning it five times, with Cities triumphing on three occasions and Rovers once, with no premiership awarded in the flood year of 2013.
The current premiership trophy was first awarded in 1991 and Cities have the distinction of winning it six years in a row from 1999-2004 and Des would love for his club to match the feat, but who knows what next year may hold.
Earlier in the day, All Blacks also toppled the No. 1 side Cities 8-4 in under-13 with a hat-trick of goals to Kalen Wilke, who took out the Player of the Final award, while another of Des' grandsons Tim Wales, who also helped out in the men's division during the season, was also among the scorers. Sophie Castelli bagged a double in the losing side.
Cities also went down in the under-11 finale to Arrows/Athletics 4-0 with Bridie Stehbens notching a double in a Player of the Final performance for the winners.
Stalwart Sarah Pohlmann was a hero, bagging a double to spearhead Waves Cities to a 3-0 victory over a valiant Raiders/Rovers in the women's hockey grand final.
The result hung in the balance until Cities sealed the deal with two goals in the last three minutes to reclaim the silverware which they previously won in 2018 but surrendered to Arrows/Athletics in last year's grand final.
Coach Sarah Usher, a star for the club as a player for over 20 years, but was in her first season as women's coach, was proud of her team which was well led by captain Rachael Visser.
"It was a great game – we had drawn with Raiders/Rovers twice this season but beat them in the last round to put us as minor premiers but they have been a tough side all year to play against," Sarah said.
"We were undefeated and defensively Sarah Quaite was very instrumental in all our wins and Deb Bradford has also been fantastic all year – she only let four goals in all season.
"We also had a lot of young ones, mostly 16 and 17, who all stepped, Zali Usher, Jessica Asnicar, Sarah Ryan, Millee Flanders, Katie McCord, Ella McCaig and Anna Smith."
Sarah Ryan and Sarah Usher's daughter Zali were both backing up immediately from the under-16 grand final which they had won against Arrows 2-0, with Sarah Ryan the Player of the Final.
Cities' under-16's, who were co-coached by men's young guns Riley Stevens and Lachlan McLennan, who both continued their prolific scoring seasons with a goal each in their grand final later in the afternoon, capped a perfect season, winning all their nine matches, amassing 34 goals while conceding a mere six.
Oliver Baldwin and Sam Aitkenhead, who took his under-16 season tally to 13, were their goal scorers.
AFL
Congratulations to Across The Waves Eagles on taking out the Wide Bay Seniors minor premiership with a big last-round win over Brothers Bulldogs tomorrow.
They will host the grand final next Saturday against the winner of tomorrow's semi-final in Hervey Bay between the Bombers and Power.
The Eagles will contest the Reserves and Colts semis tomorrow, both against the Power, while in junior preliminary finals on Sunday, in under-14, Hervey Bay will meet Eagles and Power play Bulldogs, and in under-12, Bombers Black fire up against Bulldogs and Bombers Red aim up for their showdown with Power.
Rugby League
Towering prop Tom Elphinstone and captain and back rower Hector Klowss each notched doubles to lead St Patrick's Catholic School to a convincing 30-12 win over a brave Woongarra SS in the Bundaberg Primary Schools Rugby League Division A grand final on Monday to claim the Covid Cup.
They took out that division for the second year in a row under their Master Coach Mr Matt Plumb with Jacob Werchon also picking up a try and Lachlan Rae, Spencer Hurst, Hector Klowss, Ben Kelly and Ferdy Jenner kicking one goal each.
Jarryd McClymont and Hudson Strickfuss claimed tries for Woongarra with conversions to Charlie Steele and Lucas Powell, while coach Mr Jason Shears, who also did an amazing job in organizing the competition, named right centre Hudson Strickfuss as their best, ahead of dummy halves Lachlan Wyllie and Kobey Walsh, and lock Lucas Powell.
In the Division B grand final, East accounted for Bargara 20-18 with tries to Jayce De Silva, Byron Williams, Zane Guymer and Harrison Candy, and goals to Jayce De Silva, Levi Haack, while James Nelson posted a double for Bargara, and Zeph Spencer and Jack Stevens each also crossed, with Zeph also adding one goal.
The penultimate round of the Bundaberg Junior Rugby League will be played this weekend with Bundaberg matches this Sunday to be played at the Waves Sports Complex, and in under-18 at 2.40pm, it will be a keenly contested local derby between Waves Tigers, who are out of finals contention, and already confirmed minor premiers Wests Panthers.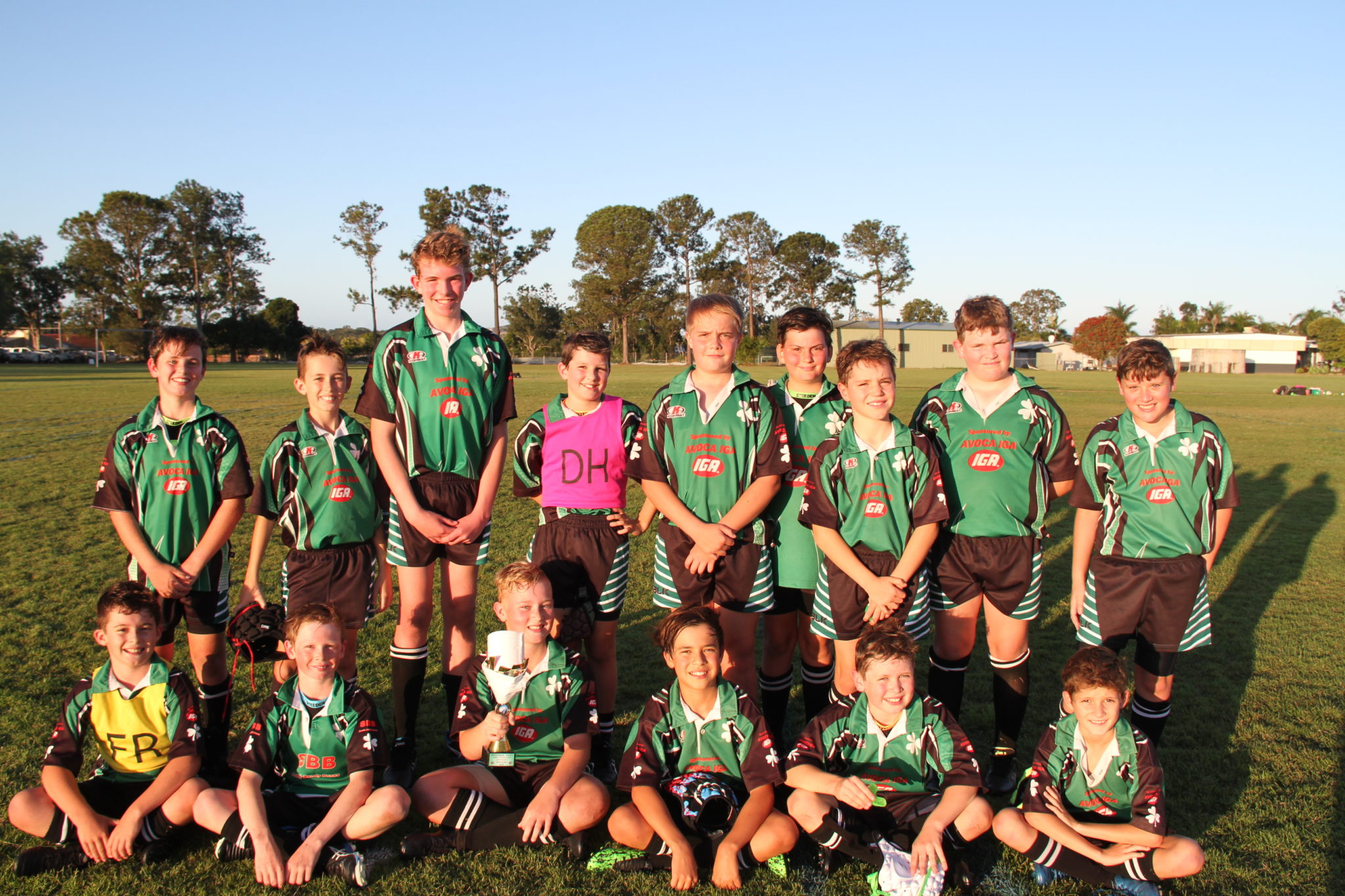 Football
Bingera have responded to their first loss in the Wide Bay Premier League two weeks ago, going down to Across The Waves (ATW), in the best possible way, beating Brothers-Aston Villa (BAV) 3-0 in their top of the table clash last Saturday then mauling Diggers 17-1 on Wednesday night.
Tomorrow at Martens Oval at 6pm, they face another tough test against United Park Eagles (UPE), while ATW clash with KSS Jets. BAV will host Granville at Brothers Sports Club and Bargara venture to Maryborough to suit up against Sunbury.
In the Ladies League tonight, at 6pm, it is Bingera Cutters v UPE Black, Bargara v SC Corinthians Lionesses and ATW v ATW United, then at 7.45pm, ATW Saints meet Diggers.
Midweek results
Wide Bay Premier League
Sunbury 1 defeated KSS Jets 0; UPE 3 (S Bretag 2, L Coates) defeated Bav 1 (L Scarborough); Bingera 17 (G O'donnell 5, S Youngberry 3, C Breuer 2, J Watson 2, M Mceachran, D Watson, C Pym, B Kitching, Joel Haack) defeated Diggers 1 (K Thompson); ATW defeated Bargara on forfeit.
Ladies League
Diggers 2 (K Havers, C Wells) defeated Bingera Cutters 0; ATW 5 (T Zielke 3, L Thatcher, C Hicks) defeated UPE Black 2 (T Marriott, K Pegg); Bingera 4 (H Sparozvich 2, S Tanner, J Kelly) defeated Bargara 2 (B Ardente, I Killen); SC Corinthians Lionesses 1 (G Bardell) drew ATW United 1 (E Bongioletti).
Under-16
ATW Rangers 3 (N Mason 2, H Hunter) defeated ATW United 0; UPE Black 12 (A Ulahannan 3, W Bath 3, J Baker 2, R Markey 2, T Hooper-Johnson, L Drew) defeated UPE Purple 0; SC Corinthians Gladiators 4 (C Brown 3, J Grigg) defeated UPE White 2 (S Banks, D McCord).
Under-14
Diggers 4 (C Kruger 2, R Findlay, P Parker) defeated bargara 2 (C Turner).
Cricket
The new Bundaberg Cricket season will kick off this weekend with Twenty/20 matches in all three senior divisions at Kendall's Flat.
Hervey Bay has joined the Bundaberg Division 1 this season, creating a bye, and in the first round at 10.30am tomorrow, they will meet Norths, while Waves will take on East Bundy Magpies (formerly Past Highs).
Then at 2pm, it will be the Magpies up against Division 1 premiers Brothers, and Hervey Bay go head-to-head with Waves.
Horse Racing
Trainer Gary Clem has sent rising champion King Klaus for a well earned spell after he won a Class 4 at Caloundra last Sunday after having finished a close second in a Saturday Class 3 at Eagles Farm 15 days earlier.
The gelding now has four wins, two seconds and a third from seven starts and Gary now rates him as the best horse he has ever trained and expects him to go on to even bigger and better things.
Gary also has the horse's younger full brother Love a Whiskey in training, but it is too early yet to know how good he may be.
Greyhounds
Clifton trainer Gerard Bowe claimed a double at this week's Bundaberg meeting, taking out the rich Derby Final with It's a Rush after having won a Mixed 4th/5th Grade with Engage.
The other feature event, the Bundaberg Oaks final for bitches, was won by Sesqui for Mount Forbes trainer Michael Edwards.
Three District trainers were each also among the winners, with Tracy Trigg picking up a maiden with Loose Wire, Phillip Carter saluting the judge with Surbiton in the Novice, and Narelle Mulcahy collecting with Naveed in the Masters 5th Grade.