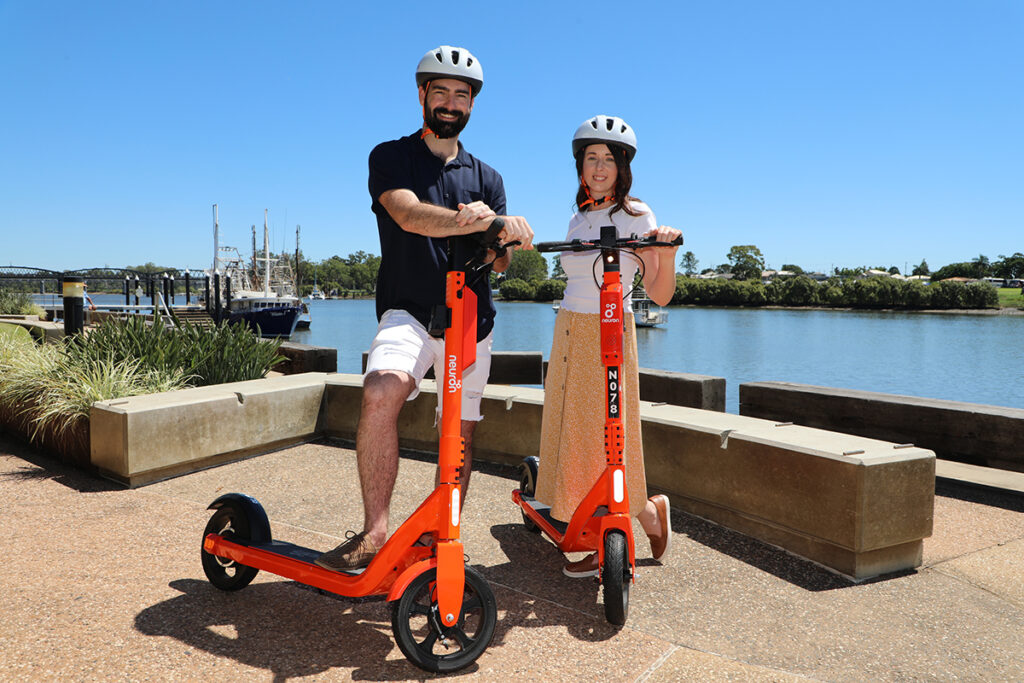 From tomorrow, e-scooters will be available to rent for short trips in Bundaberg and Bargara after Neuron Mobility launched its international operation in the region.
The two areas are among the first regional locations to be targeted by Neuron Mobility which is undertaking a 12-month trial in the area.
From Friday 2 April 250 e-scooters will be available within the Bundaberg CBD in an area bounded by the hospital, botanic gardens and the East Bundaberg tourism precinct, as well as the Bargara foreshore (see maps below).
Currently operating in metropolitan areas like Brisbane and Adelaide, the motorised scooters sit within a set geographical area and can be 'unlocked' using a mobile device.
For a fee, users then ride to their desired location, park the scooter and end their trip.
For the safety of all residents the scooters are "geofenced" which ensures they cannot be taken outside of the designated areas and are only parked in dedicated locations.
Certain areas, that may have a higher level of foot traffic, will be set as speed restricted "go-slow" zones and areas where local laws restrict the use of scooters will be set as "no-go" zones and the scooters will power down so the user can walk it through the area.
Bundaberg Regional Council sport and recreation portfolio spokesperson Cr Vince Habermann said it was a boon for the region to be targeted by Neuron Mobility.
"E-scooters in our CBD areas will provide an affordable and sustainable transport option for residents and visitors and may even encourage people to spend more time enjoying our pathways and outdoor spaces," Cr Habermann said.
"Just the fact that Neuron Mobility has targeted the Bundaberg Region with this proposal, I think, speaks volumes for the growth of our area.
"While they operate thousands of e-scooters in Australia and internationally, Brisbane and Townsville are the only other Queensland locations."
Neuron Mobility said the company's investment in the region would create about 25 jobs, recruited locally.
CEO Zachary Wang said Neuron Mobility considered the region to be a "superb environment for e-scooters" and was excited to launch its program in its third Queensland city.
"E-scooters are a great way for locals as well as tourists to travel in a safe, convenient and fun way and elsewhere in Australia they are helping to boost the local economy," Mr Wang said.
"Safety is our top priority, it dictates our e-scooter design and also the way we operate them.
"Our N3 e-scooters are packed with a range of cutting-edge safety features and we know from experience in other cities that riders really appreciate this."
On its website, Neuron Mobility said it works with Councils throughout Australia and internationally to offer safe and efficient short trips.
"Councils are focused on how e-scooters can integrate seamlessly into their cities … we have a fast innovation cycle, so we can create bespoke solutions to suit individual cities."
Neuron Mobility said it was one of the pioneers of geofencing technology "which allows councils to better control where, and how fast, e-scooters can be ridden".
"Using GPS and geolocation, we work with councils to implement slow-zones, no-go zones and to dedicate parking zones that best suit their towns and cities.
"Information about e-scooter movements, speed, drop-off and pick-up points can be used to help cities better manage their transport systems.
"We share anonymised data with councils so they can better plan the cities of the future."
Riders will be able to book and use the e-scooters through Neuron's user-friendly app, which can be downloaded from Apple or Google app stores and set up in a matter of minutes.
Single trips will cost $1 to unlock the e-scooter and 38 cents per minute thereafter.
More frequent users have the option to purchase Neuron Passes, a subscription service, available in three-day ($25), weekly ($33), or monthly ($89) options.
Neuron Mobility said the packages allow users to ride as many times as they want for up to 90 minutes per day for a fixed affordable price.
"This will result in no additional unlocking fees and savings of up to 90 per cent," Neuron Mobility said.
Where the e-scooters can operate: