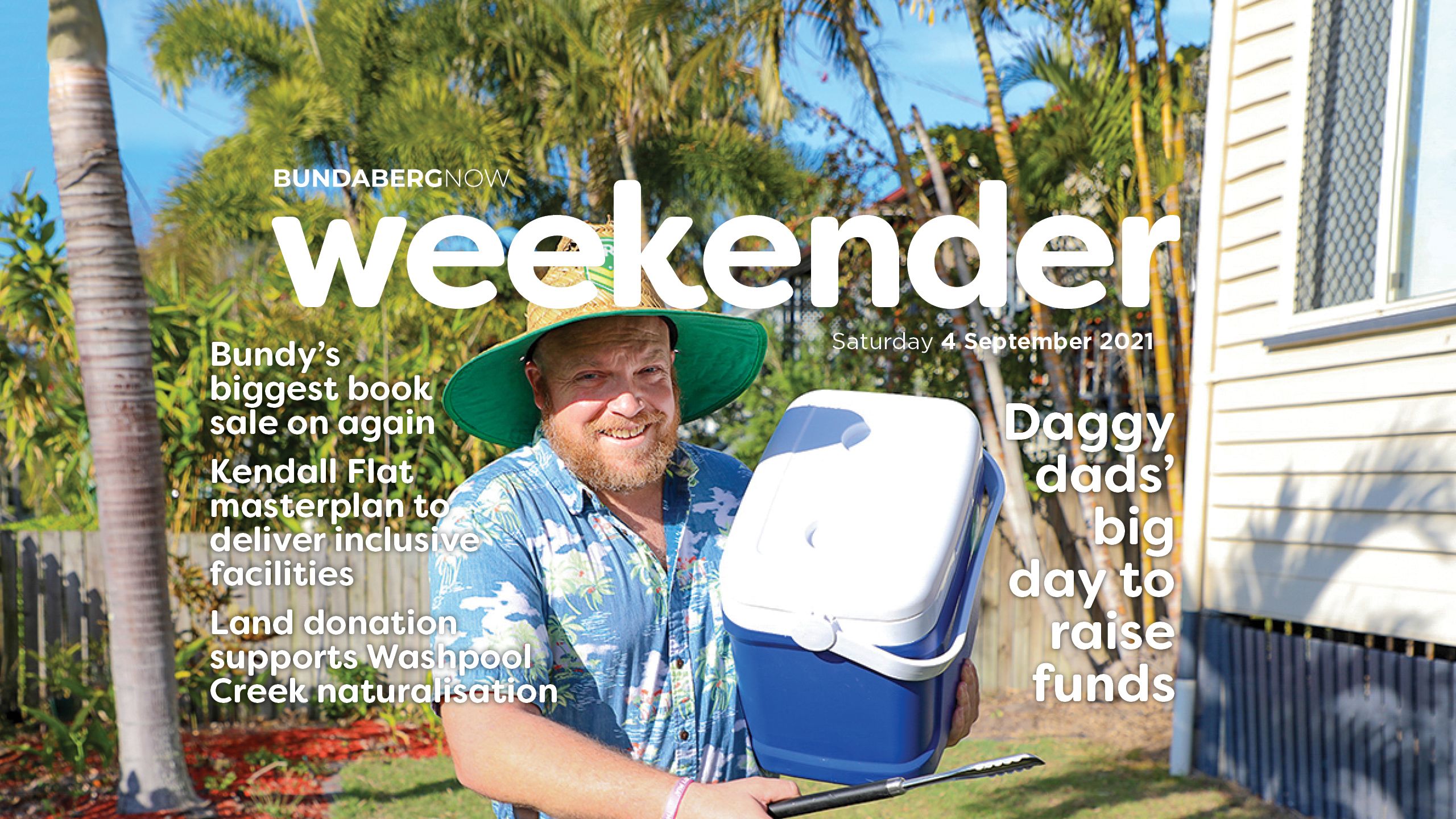 Land donation supports Washpool Creek naturalisation
Megan Dean
Two parcels of land have been gifted to Bundaberg Regional Council to enhance and expand the Washpool Creek naturalisation project area.
Owners Shane and Trudie Howell approached Council with the proposal to donate the properties, located at 1 and 3 Ford Street, Bundaberg South, to show their support for the project and the benefits it would provide to the local area.
Their hope is that the land can be used to increase naturally shaded public area and provide more wildlife habitat, and in particular, frog habitat.
"After enjoying the Baldwin Swamp walkways for many years to support an extension was a no-brainer," the long-term residents said.
"A more natural watercourse is definitely easier on the eye and a more environmentally friendly use of the area.
"More green spaces can only benefit Bundy in the future.
"It'll be nice to enjoy the new walkways and facilities of the completed project.
"[We're] looking forward to seeing our donation benefiting the broader community."
Council accepted the gift in its August 31 Ordinary Meeting, resolving to enter into a Deed of Gift with the landowner.
Mayor Jack Dempsey welcomed the decision which he said would provide future benefit to the community.
"The Washpool Creek naturalisation project will see an outdated concrete drain returned to its original state as a thriving waterway and open space which the entire community can enjoy," Mayor Dempsey said.
"It is wonderful to see the value of this project being recognised by community-minded citizens like Shane and Trudie.
"On behalf of the entire Bundaberg Region community I would like to offer them our thanks for their generosity and support."
The Washpool Creek naturalisation project is currently in the concept design stage and the donation of land has been made in time for the parcels to be considered as part of this process.
"We've already received valuable feedback from the community and once these concept designs are ready there will be another opportunity for residents to consult," Mayor Dempsey said.
After the community has provided feedback on the concept designs, the project will commence to detailed design following which a timeline for construction will be developed.
Calling all daggy dads, Big Dad Out is here
 Emma Reid
Grab your socks and sandals, a pair of stubbies and your favourite bucket hat and head along to the Big Dad Out for a good cause.
Growing up in Bundaberg through the 1990s, Big Dad Out organiser Ryan Pearce said it was common for people of his generation to tune into, or attend, the popular music festival Big Day Out.
Now decades later, Ryan hopes his play on words will attract the same vibes and chilled-out atmosphere as Big Dad Out charity event makes its debut mid-September.
The inaugural fundraising event will help raise money for the Children's Hospital Foundation and Beyond Blue.
Ryan said the idea came about after he posted a photo of "daggy dads" to social media which sparked the conversation between his online friends.
"I posted a photo of a bunch of men dressed all daggy going on a pub crawl and it (the post) received comments saying I should make it happen," he said.
"But I'm in my 40s and going on a pub crawl doesn't appeal to me now but I thought it was a good idea to raise money for some good causes."
As a father-of-two Ryan said he felt it was important to show support for fatherhood, and encouraged both men and women to get involved in Big Dad Out.
"It's open to all the daggy dads out there, male and female, especially those who use to go to the Big Day Out," he said.
"I guess Big Dad Out is Big Day Out in a tame sense, and definitely with big dad energy!
"Let's celebrate it while raising money for great causes."
Big Dad Out a special cause for Ryan
Fundraising for the Children's Hospital is close to Ryan and his wife Rhianne's heart, as their daughter Mia was diagnosed with acute lymphoblastic leukaemia in 2016 and the hospital supported their family through the battle.
"I guess I was inspired to do this from our experience with Mia – to help give back," he said.
"Dads, the paternal leader of the family, come in all shapes, sizes, and sexes.
"Rhianne is really excited to get dressed up as a 'daggy dad' and she has a bit of a surprise ready for it.
"We will have prizes for the best dressed dad and lucky door prizes.
"Whether you're a fishing dad, a barbecue dad or just a really daggy dad, we hope you can dress in theme and make it."
Big Dad Out will be held on Saturday, 18 September, kicking off the charity pub crawl at the Railway Hotel from 1pm.
"It's $20 a ticket to join in the daggy dad fun, with thousands of dollars in raffle prizes to be won thanks to the support from local businesses," Ryan said.
"And if you can't make the day there is still a way you can help by donating to the event online."
Thousands of books on offer at annual Rotary event
Ashley Schipper
The Bundaberg Recreational Precinct will transform into a reader's paradise next weekend when the annual Rotary Book Sale takes place.
Rotary Club of Bundaberg Central book sale coordinator Ross Peddlesden said the popular event was established more than a decade ago and featured thousands of donated books for sale from as little as 50 cents.
"There will be books of all genres that have either been donated to Rotary or have been culled by the Bundaberg Library," he said.
"It's a major fundraiser with about 40 per cent of money going back in to library programs and the rest supporting Rotary programs locally, nationally and internationally."
Ross said the event was as much of a fundraiser as it was a literacy project, helping to spread a love of reading throughout the community.
"Literacy is one of the main areas of focus for Rotary and this event really symbolises that," he said.
"We get lots of families coming through the doors every year and it is so heartening to see the children light up when they run straight towards the kids section to find books that they love."
Ross said one of his fondest memories from the book sale took place at the inaugural event, when he met a young girl and her grandmother who had $50 to spend.
"You can imagine with prices starting at 50 cents, that's a lot of books!" he laughed.
"When they got to the counter we started piling them all up and the books towered over the young girl.
"She turned to me and said, 'don't worry, I will read all of these', and it was just such a great moment and a reminder that books still hold so much joy in people's lives."
Ross said in a day and age where technology ruled, it was fantastic to see that books remained a much-loved item.
"People talk of books dying out but that has certainly not been our experience at this event," he said.
"We get thousands of people through the doors every year and we are expecting the same response next weekend."
The Rotary Book Sale will kick off from Friday, 10 September from 9am to 7pm.
"It will continue on Saturday, 11 September from 9am to 3pm and again on Sunday from 9am to 1pm at the Bundaberg Recreational Precinct," Ross said.
"Everyone is invited to come along for a browse and pick up a good book or 10!"
Record growth for Auswide as home ownership booms
Ashley Schipper
Auswide Bank is celebrating 12 months of success after the local institution released news of it's record-breaking growth for the 2020-21 financial period.
Managing director Martin Barrett said in the past financial year the bank had experienced strong improvement across all key metrics including a net profit after tax of $24.155m, up 30.5%.
Mr Barrett said the local bank, which started from humble beginnings in the region in 1966, was now performing at a higher rate than some of the nation's big banks.
"From a purely loan broker perspective, we are doing marginally better," he said.
"A few of the big four banks have certainly experienced growth of around about five per cent while our growth came in at 10 per cent for the financial year."
Mr Barrett said he put the success down to a range of factors including the bank's evolving operations and the current housing market boom spurred on by COVID-19.
"Brokers continue to represent an important distribution channel for us and our most significant growth opportunity," he said.
"More brokers are choosing to do their home loans through Auswide than ever before, which is due to high turnaround for our approval times.
"We can usually approve a home loan within a week, sometimes within a day, because all of our work is kept onshore rather than offshore."
Mr Barrett said the massive growth had been a first for the bank and had not only been experienced locally, but also in its growing customer base across Southeast Queensland, New South Wales and Victoria.
He said it was also partly due to the bank's participation in the First Home Owner's Scheme, providing customers a range of savings.
"Rather than our customers needing a 20 per cent deposit for their home loan they only have to have a five per cent deposit which is proving to be a huge drawcard," he said.
"Last year we approved about 750 million dollars of loans and this year that has skyrocketed to well over a billion dollars."
As for the future, Mr Barrett said he was confident that the next 12 months would remain positive.
"While I believe the construction side of things will slow down a little bit due to constraints on the industry, there is still plenty happening with development, first home buyers and more," he said.
"Deposits are also growing steadily.
"I am actually surprised by how much money there is out there to be put in a bank, it's amazing."
Mr Barrett said Auswide Bank would not be in such a positive position without the support from its customers and the local community.
"I would like to say thank you to Bundaberg for continuing to support us," he said.
"It's fantastic to be in a town that really does support their local bank and the more we get the support, the more we can give back to local groups and organisations.
"Our vision of becoming the bank that our customers, staff and partners want their friends, family and colleagues to bank with is coming to fruition."
First birthday celebrations for Gin Gin Community Hub
Ashley Schipper
The Gin Gin Community Hub is turning one during the month of September and to celebrate, residents are invited to join in on the fun at a free circus-themed morning tea.
Featuring live music, clowns, face painting, a sausage sizzle and a range of activities, it will be a morning of festivities at the hub on Thursday, 23 September.
Divisional representative Cr Wayne Honor said the Gin Gin Community Hub had been a wonderful addition to the region since opening last year.
"Even with COVID restrictions in place the community hub has been a great spot to meet, connect, build friendships, access services and information or sit and relax in the library space," he said.
"This event will be a fantastic opportunity for the community to come together and celebrate all the wonderful things we have achieved together in the past 12 months, including the opening of our fantastic hub."
The hub was part of major works in Gin Gin when construction took place in 2019, with the main street also part of the upgrade works.
Gin Gin Community Hub celebrates anniversary
The building, situated at 4 Dear Street is now home to the Gin Gin Library and Gin Gin Neighbourhood Centre and aims to provide the community with an accessible space to be active, participate in activities and events, to engage and to be supported.
Cr Honor said all residents were invited along to celebrate the first birthday event.
"There will be a live music by Sticky Rock Duo, a circus performance by Tyrone O'Reilly, face painting, craft activities and much more," he said.
"Of course, we will have a birthday cake cutting and a tasty sausage sizzle to enjoy by the Gin Gin Men's Shed.
"Bring the whole family along to celebrate and enjoy our fantastic community hub."
The birthday event will kick off from 9.30 am to 11.30 am.
Bundy's biggest scavenger hunt kicks off soon
Ashley Schipper
The biggest scavenger hunt of the year will soon take place throughout the Bundaberg Region, aiming to educate youth on how to respond and recover in a natural disaster through mobile technology.
The Get Ready Goosechase of 2021 combines disaster recovery education with an app-based game, taking explorers on a mission around the community to find clues and information on how to prepare in storms, fires, floods and more.
Mayor Jack Dempsey said the unique scavenger hunt was designed in a fun and engaging way and had been developed through Council's Community Resilience program with the help of a small group of the region's youth.
"The Get Ready Goosechase uses a specialised mobile app to take participants on a journey within the community," he said.
"The aim of the scavenger hunt is to build resilience through raising awareness and understanding on how to prepare, respond and recover from natural disaster events that can impact our region, using online platforms that are engaging and relevant to young people," he said.
"Missions have been put together that you can do at home, but also out in the community and in a way that no matter where you live in the region, everyone has the same opportunity to win."
Mayor Dempsey said many local businesses had jumped on board to support the initiative through the donation of prizes, which can be won by participants at various points of the scavenger hunt.
"Across the month participants will have the opportunity to win other great prize packs by completing missions and getting involved," he said.
"With the great support of our partners like Guzman Y Gomez, Slicks Barber Shop, Hinkler Hall of Aviation and R U OK?, to name a few, you never know what you may find in our prize packs, but we are sure you will find something you like!"
Bundaberg State High School students Billy Clark and Noah McLellan and North Bundaberg State High School's Zoe Parker have been part of developing the initiative with Council and said The Get Ready Goosechase provided many benefits.
"I think this app would be great because it will raise awareness while giving people something to do, especially in these COVID times," Zoe said.
"The theme of natural disasters will help participants to learn more about what to do and could potentially save lives."
The Great Get Ready Goosechase of 2021 is open for registration to all young people aged 13 to 18 years and will begin on 1 October and finish on 31 October.
Register now to get your Get Ready Goosechase kit, which will have all the information and items you will need to complete a range of missions to earn points to win from our prize pool valued at over $2000.

Get Ready Goosechase prizes include:
- 1st prize a $500 gift voucher from Harvey Noman
- 2nd prize a $300 gift voucher from Guzman Y Gomez
- 3rd prize a $150 gift voucher from CottonON
Once registered, you will be able to collect your Get Ready Goosechase kit in late September where you will be given the details on using the Goosechase app, game code and password and the information and props you will need for mission and be ready to start on 1 October.
For more information and to register go click here.
The Get Ready Goosechase, is an initiative of the Community Resilience Program which has been fully funded by the Australian Government under the Disaster Recovery Funding Arrangements.
Bruce's labour of love for cubby houses
Emma Reid
With 10 children and 19 grandchildren building cubby houses is a labour of love for Bundaberg's Bruce Mortensen.
"Cubby houses built tough with love" is Bruce's motto and you hear the passion in his voice when he describes finding the hobby that captured not only his free time but his heart.
Bruce has worked in the building industry for more than half a century but he said even as a young child he had a passion for working with wood.
Affectionately known as Pa, Bruce made his first cubbyhouse for his daughters more than three decades ago, and he said there had always been a strong desire for tinkering and building.
"Pa made his first cubby for my sisters and I, 35 years ago while building our home on our farm at Bucca," Bruce's daughter Kristy-Lee Roberts said.
"He wanted a place for us to play safely while he built the house, it had a veranda and a deck with a sliding glass door."
With a knack for turning timber into a home, Bruce has created a variety of cubby houses, all named after his grandchildren, and even a one-off "monstrosity" located high in a tree in his own backyard.
"That is a monstrosity," he laughed.
"That took a long time to build and was very hard to build as it was up so high, but I'm glad it's all done now – the kids love it."
Working in a timber merchant yard, Bruce said he spent his spare time building the cubbyhouses.
"It takes nearly a week just to get them painted," Bruce said.
"We start with a base, and then the frame, then clad it and roof on, before the windows and doors; then paint it."
Bruce said having a large family inspired him to create a variety of styles, but he loved the fact the cubbyhouses helped get them outside enjoying the outdoors and their own backyards.
"I have 10 kids, and 19 grandkids at the moment but that's growing all the time!" he said.
"They love, it is good to make it for them too – just the enjoyment they get out of it.
"The fact they (the grandchildren) can get in there and play, somewhere they can call their own.
"I love working with timber – it keeps me out of trouble."
Item 1 of 3
Exhibition inspired by First Nations 'dreamer'
Georgia Neville
Eddie Koiki Mabo is the inspiration behind the upcoming Legacy: Reflections on Mabo exhibition to be held at the Bundaberg Regional Art Gallery from Saturday 28 August.
Co-curated by his daughter Gail Mabo, the works in the exhibition come together to celebrate a man who was both a rebel and a dreamer.
It's the first exhibition of its kind to explore the life and legacy of the late Eddie Koiki Mabo through the artwork of Indigenous and non-Indigenous artists.
The exhibition showcases the work of 22 artists who have all used their pieces to respond to an aspect of Mabo they were drawn to whether it be his life, politics, activism or legacy.
Council's Art, Culture and events portfolio spokesperson Cr John Learmonth said the history and meaning behind the works made it a unique exhibition.
"This exhibition is fascinating in the way it helps to expand understanding of the way Eddie Mabo contributed to Australian history," Cr Learmonth said.
Legacy: Reflections on Mabo encourages conversations about Indigenous rights for people of all ages and it is hoped Eddie's story can be engaged with from a multitude of current perspectives.
"It contains 25 pieces of art, each which encourage a different conversation around Indigenous rights due to the nature of their connection back to Mabo's legacy," Cr Learmonth said.
"I encourage the community to visit the exhibition and have conversation amongst themselves, as it is a very important part of our culture as Australians."
Pat Hoffie was invited to participate in the exhibition for her artwork which makes a statement about the importance of the recognition of First Nations people.
"Eddie Mabo's contribution to our understanding about the truth of prior occupation of the land is inestimable," she said.
"It's of the most significant importance to all of us - First Nations people as well as non-Indigenous Australians.
"Eddie was a quiet achiever with remarkable qualities, three of which are his passion for his country, his passion for revealing and insisting on recognition of the truth, his tireless dedication to setting the records straight."
The touring exhibition is on until Sunday, 7 November and incorporates a range of different mediums including painting, drawing, weaving and sculptures.
Artists on display at the exhibition include:
Blak Douglas & Adam Geczy
Elisa Jane Carmichael & Sonja Carmichael
Toby Cedar
Dian Darmansjah
Katina Davidson
Shane Fitzgerald
Hayley Megan French
Marion Gaemers
Patricia Hoffie
David Jones
Ian Kaddy
Talitha Kennedy
Jo Lankester
Veronica Lulu & Kim Mahood
Ron McBurnie
Arone Meeks
Jim Paterson
Tommy Pau
Obery Sambo
Anneke Silver
Ken Thaiday Sr.
Judy Watson
You can find out more about the exhibition here.
The Artist Table
Bush Tucker and Banter
Bundaberg Regional Art Gallery recently hosted an exclusive Artist Table event which featured a private viewing of new exhibitions Legacy: Reflections on Mabo; Sitting Down Place and Ayvua Meenha, accompanied by the artists.

Item 1 of 9
Spring has sprung in Karen's cottage garden
Morgan Everett
In four short months Karen Messitt has landscaped her blank canvas yard into a colourful work of art.
Sprouting from a long line of gardeners, starting from scratch was no challenge for Karen, who took to the untouched soil with open arms.
"I have a vision of a cottage garden, Queensland style," she said.
"The front garden is a mixture of perennial flowering shrubs, Australian natives and some feature ornamentals.
"They have all been chosen with a view to always having something in flower all year round and always choosing plants that bring the birds, bees and butterflies."
The garden is an ongoing process for Karen who said the focus has now moved to the backyard after getting the front section planted.  
"I want to have most things in as soon as possible so they can get established before the hot weather comes," Karen said.
"We planted some trees straight away and have reused a load of pavers, sleepers and hardwood to create garden beds and paths."
A new addition is Murray the standard Mulberry tree who Karen said is a favourite of hers along with Salvias that also feature in the garden.
"The act of gardening is deeply satisfying and great exercise," Karen said. 
"Watching a garden bed come to life, and bloom is delightful."
Karen said she loves a garden that looks a little let go, her goal is to create a natural space, pairing plants that mesh well together and intertwine as time goes on.
"The overall plan is to keep a much smaller circle of lawn and to plant deep, cooling garden beds with the long term in mind," she said.
"Natives to give colour and scent now while some slower, long term trees and shrubs grow in the background."
The green thumb said her mother used to work in a plant nursery in Toowoomba, where Karen helped on the till each day after school.
It was no surprise a love for plants flourished for Karen.