After buying an established macadamia farm last year Bundaberg mother Aynsley Berthelsen decided it was time to spend more time at home with her son, and with the help of her close friend Minty Blair, they started Salty Co and became stay-at-home entrepreneurs.
Aynsley and her husband bought the established macadamia farm at Pine Creek in August last year with no experience in the nut, food or agriculture industry, and that's when the business idea to take advantage of the macadamia nuts and become a stay-at-home working mum came about.
Aynsley said her and Minty had always had big dreams of owning their own business and after having children only five days apart, the bond between them grew and soon plans started to blossom, just as the macadamias did.
"My husband is a builder and I have a background in psychology so we were both completely new to agriculture," Aynsley said.
"We purchased the farm with 15,500 macadamia trees just before the harvest and I wasn't sure at first what to do with the nuts.
"We are always willing to try new things so we learnt about the nutrition for the trees and increased our tonnage for the second harvest this year."
Salty Co nut business tastes success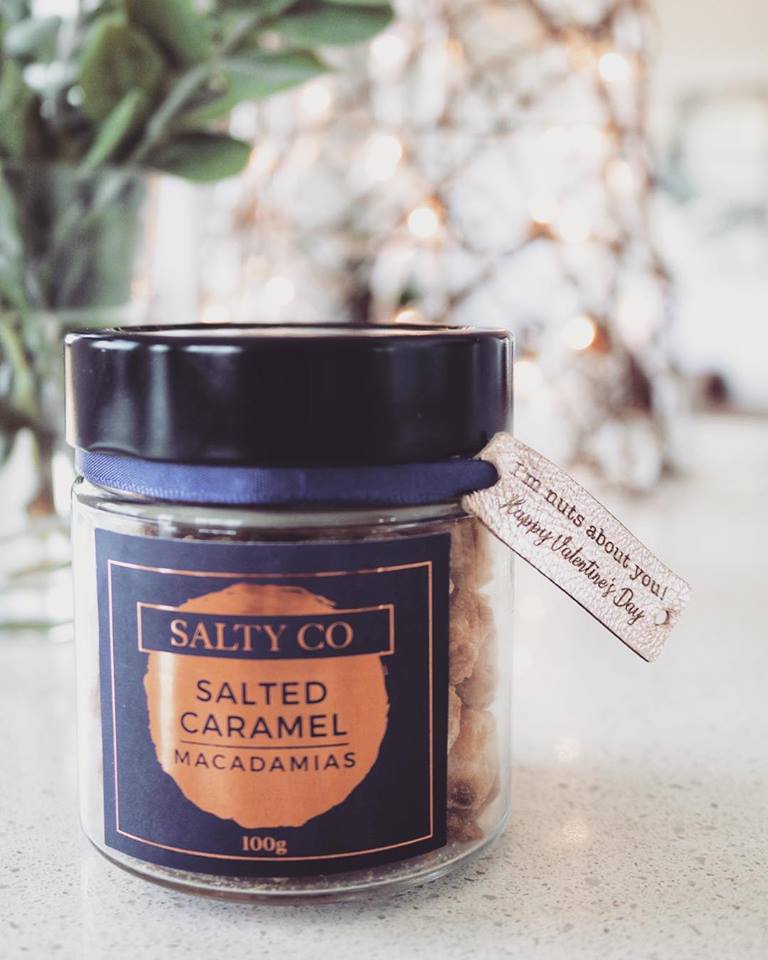 Aynsley and Minty always had the same intention of giving up full-time work when they became mums, but both were determined to stay in the workforce and becoming business owners gave them the freedom to do so.
Before the Salty Co nut business, Minty worked in the dental industry, but had a background in cooking and catering.
This proved beneficial as the mums set about experimenting with ideas on how to use the nuts in a way that wasn't already on the market.
"We toiled with lots of creative ideas and finally after purchasing a secret recipe for caramel macadamias and the necessary equipment, our journey began," she said.
"Minty has been the brains behind the flavouring and we both have a passion for food.
"As we put our heads together the creative juices flowed; we began thinking of how to modify our secret recipe to be able to offer new tantalising flavours."
Experimenting with the taste, Aynsley said they added cinnamon donut macadamias and coffee macadamias to now produce three macadamia products, including salted caramel, full of flavour.
"It's not uncommon for people to comment and say the best-before date is irrelevant; once they open the jar of nuts they don't often last even a day!" she said.
Aynsley said after the success in the first year they now had bigger dreams for the future and were also looking to add savoury flavours to their brand.
"It has been the perfect opportunity for us to remain stay at home mums but remaining in the workforce," Aynsley said.
"With the flexibility to work our business in around our children and grow our families also."
What's in the Salty Co nut business name?
Aynsley said the Salty Co nut business was named for the versatility in the word salt, because the pair's dreams were only going to get bigger.
"We thought, well salt is added to everything, so why not," she said.
"It's general enough for us to expand in the future and who knows where it will lead us – maybe even a café one day!"
The Salty Co products are now sold in nine retail stores around the Bundaberg Region, including Chippindalls newsagency, One Little Farm and the Pocket Storehouse.