Dressed in her favourite coloured outfit and surrounded by loved ones, Mabel Jordan celebrated her 100th birthday on Saturday, 15 August at The Waves.
Mabel said she was privileged to reach the century. She said the secret to longevity was decades of a hard work along with enjoyment of travel.
The great-grandmother said she has seen many things and her favourite pastime is gardening.
"I was the longest serving carnival garden in Toowoomba," she said.
"From 1963 to 2009, I was known as the azalea lady.
"I owned a nursery with my husband Curly, it was Girrawheen Nursery, meaning the place of flowers.
"I got up at 5am every day and maybe that's the reason I have lived so long."
Before the Second World War, Mabel said she worked as a telephonist, operating a switchboard and connecting calls around the country via phone jacks and operating plugs.
"I enjoyed working there, then I went on to work at the post office, before I worked as a domestic nurse at the hospital," Mabel said.
"I was a domestic worker for over 40 years. At one time I was in charge of two wards when there was a tuberculosis outbreak.
"It was a very contagious disease, and I was very particular about how I cleaned those two wards."
Travel kept Mabel young
In the late 70s Mabel set her sights on travelling the world and visited many countries.
"I loved travelling the world, that was a highlight, I did it three times," Mabel said.
"I went to Kathmandu and saw Mount Everest sticking right up there, you'd swear it was touching the stars, and I walked the Great Wall, been to Canada through the Alaska (Inside) Passage, that is a must for everyone, South Africa and New Zealand."
Mabel's granddaughter Tanya Drew said it was only about six years ago when Mabel wanted to visit the South Pole, but she didn't get the chance.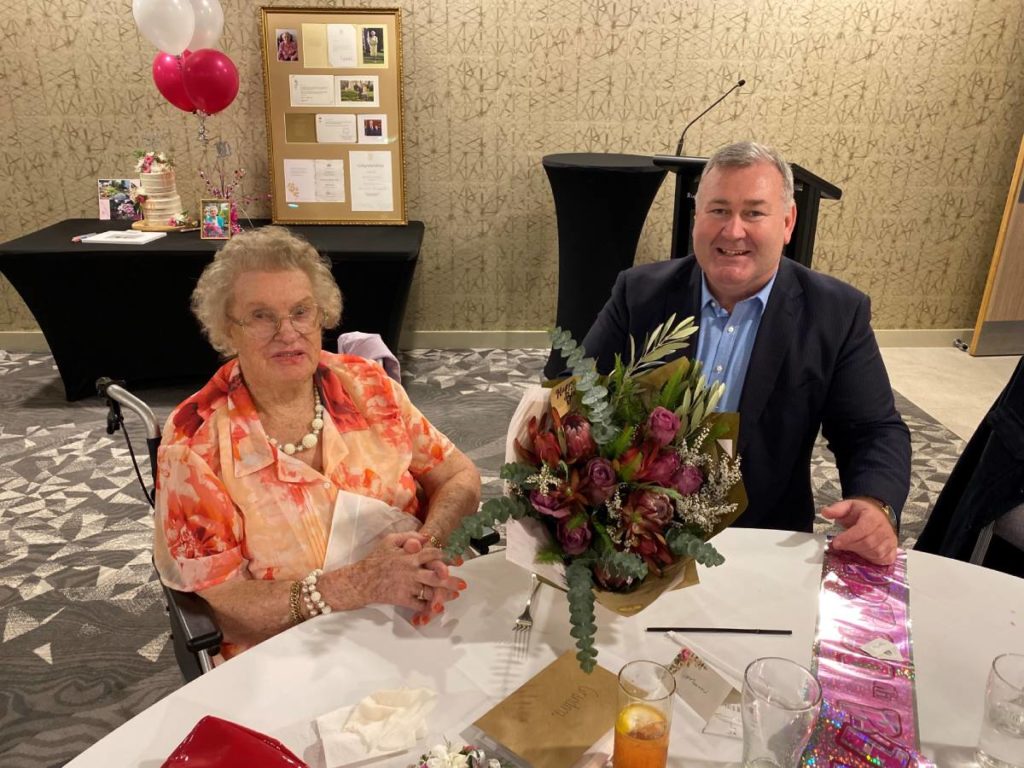 Mayor Jack Dempsey attended the birthday celebrations to wish Mabel a happy 100th birthday and discussed Mabel's passion for gardening.   
"Today marks 75 years since the end of the Second World War," he said.
"It's been a very special day and to be here now to wish you a very happy 100th birthday brings joy to us all.
"The younger generation can only marvel at some of the things that have occurred during your 100 years, and on behalf of all of the Bundaberg community I want to wish you a happy birthday Mabel."
Mabel said a word of advice for the younger generations was to work hard and save every penny.
"Life has changed; in our time we didn't have much money and if you wanted anything you had to save for it," she said.
"We didn't get a loan or anything, even if you didn't have lino on the bare floor you would have to save and wait for it.
"Just don't waste your money."