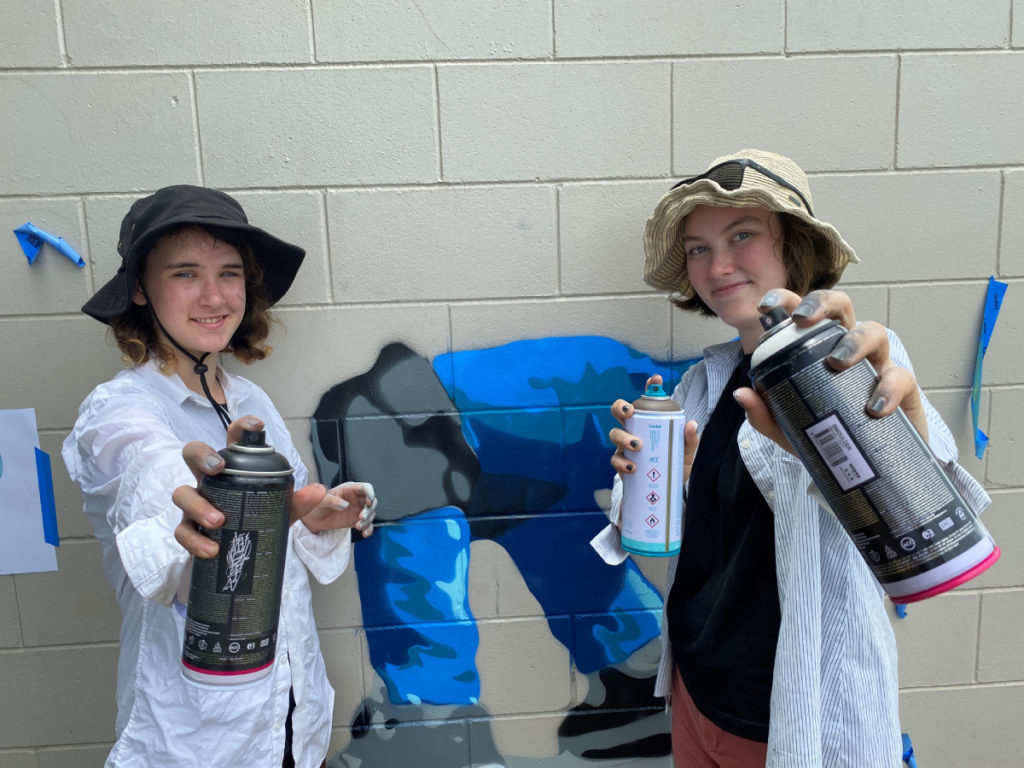 Local teenagers have left their mark on the Bundaberg Region after participating in Team Snipz Arts Summer School program.
Shalom College's Libby Boas and Kepnock State High School's Tehya Hunt made room in their busy school holiday calendar to participate in the program, and both are now proud to have contributed to the public art scene.
Led by Marlies and Phil Oakley Team Snipz gave the teenage artists a chance to try new media and explore the world of street art in the form of paste ups and stencil work.
On Sunday Team Snipz were busy placing their skating-inspired artworks in the skate park at Nielson Park, Bargara.
Neither Libby or Tehya had tried stencil work before but both took to the blank canvases like ducks to water, as they were left to their own devices to come up with a theme and create magnificent public artworks.
Thinking outside the square Tehya said she wanted to use a bright floral design, and the pair had to work the flowers in with a skating theme.
Designing an upside-down skating helmet to resemble a pot plant Libby set about constructing the stencil with the skills she had learnt in the previous four days with Phil and Marlies.
"I love art, and this makes me feel happy to know I have a mark in Bargara," Tehya said.
"It's great opportunity to learn something new."
"I heard about Team Snipz and I thought it would be fun, something to do on the school holidays," Libby said.
"It's cool that we have done something to share with other people.
"It has taken quite a lot of effort and I didn't realise the time that goes into street art, but it definitely pays off now that it's almost done."
Marlies said the 14-year-old girls acquired the paste-ups and stencil skills with ease, and she is eager to run the Team Snipz program again in the future.
"It has been fun, we will do it again now that we have had the test run, and I wonder what it would be like with 7-10 kids," she said.
"The girls are able to take ownership of their artwork that will now have a permeant place in Bargara."
Phil said at the end of the Team Snipz program the participants had gained enough skill to branch out and complete their own street art projects in the future.
"All of the designs are their own – nothing to do with me as I kept trying to change them and they kept arguing," he laughed.
"They now have the skill to complete something big on their own, which was the whole point of the project.
"I shouldn't be doing this at my age, and it's nice to see the younger generation take on the local art scene."
Team Snipz formed in response to a project funded by an RADF grant and support from Council.