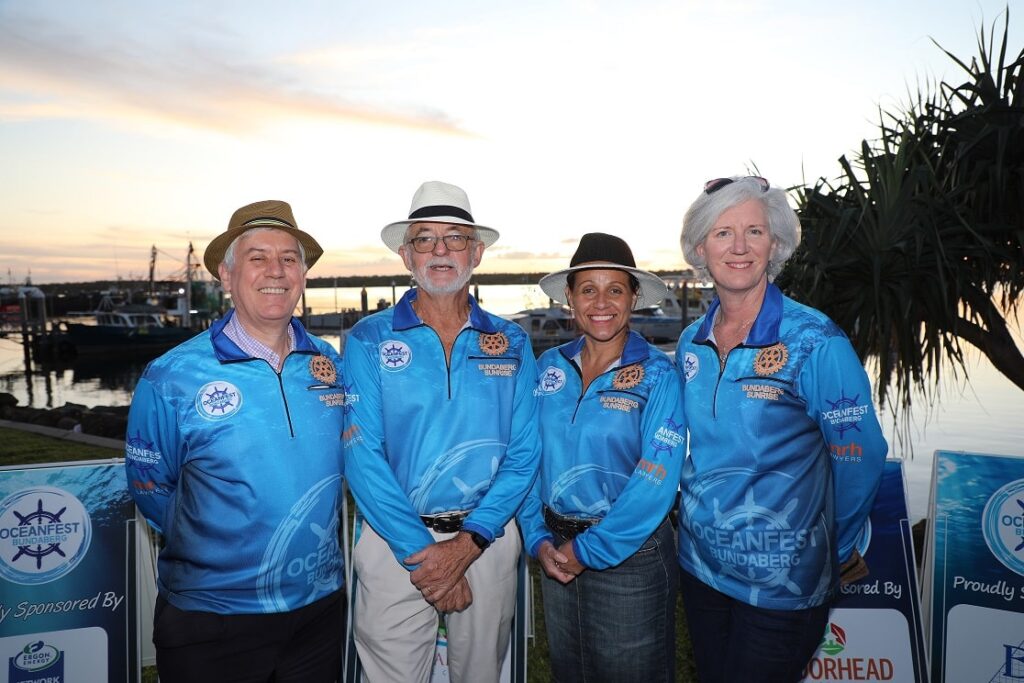 With over 10,000 people through the gates on Saturday, Oceanfest Bundaberg 2022 was deemed a great success.
The Rotary Club of Bundaberg Sunrise put on the fifth Oceanfest which was nothing short of spectacular with everything from helicopter rides to kids' entertainment and fresh seafood for all to enjoy.
Oceanfest Coordinator from Rotary Club of Bundaberg Sunrise Glenn Hoffmann said the day was fantastic, building off last years' event which was the first back since Covid.
"This year there were a number of new attractions including fastest kid at Oceanfest which provided the whole family with a fun day out," Glenn said.
"The organising committee put in a lot of hard work which paid off at the end of the day, with the event a great success."
Glenn said without the partnership between Gladstone Ports Corporation, Bundaberg Port Marina and Ocean Pacific Seafoods, the event would not have been what it was.
"With these three organisations coming together to help provide us a space to host Oceanfest, we have been able to continue to put on the event," he said.
Glenn said events such as these were not possible without the kindness of the community, with the gates raising over $4500 in entry donations.
"While there was no set entry price, we did have Rotary volunteers at the gates collecting donations from those who wanted to," he said.
"The generosity of the community does not go unnoticed, as we raised a great amount through this."
Last year the event raised $60,000 after necessary costs were deducted, and Rotary was committed to gifting net profits from Oceanfest back to the community.
As a result, they were able to assist 27 local not for profit organisations, including Angels Community Group, Lifeline, Riding for the Disabled and Phoenix House.
"I look forward to seeing exactly how much we raised and once again, donating this back to local organisations so they can keep up the great work they do," he said.
The club is hosting their sponsors and supporter recognition function this Friday at The Waves Sports Club, with a number of sponsors helping make the event a success.
Glenn said that the Waves are not only a sponsor of Oceanfest, but also very generous partners providing a venue for meetings throughout the year and the recognition function venue, as well.
"On behalf of Sunrise Rotary, I would also like to publicly thank Steve Ford, of Mi-Solutions, for his generous donation which makes this 'thank you' event possible," he said.
"We are expecting around 100 persons along and they will be a mix of sponsors, representatives of partner organisations and supporting organisations and volunteers plus some of the members of our Rotary Club and their partners.
"It is about celebrating the success of Oceanfest and promoting relationships between the various groups, with thank you plaques to be donated to a number of sponsors and supporters."
The Rotary Club of Sunrise gave their thanks to the sponsors who supported the event in 2022 including Active Security Group, Best Practice Medical Software, Bundaberg Regional Council, Bundaberg Sugar, Ergon Energy Queensland, Gladstone Ports Corporation, Green Solutions, Macadamias Australia, McDonalds Family Restaurants, MiSolutions, Moorhead Family Communities, MRH Lawyers, NBN Local, Stephen Bennett and the Waves Sports Club.
You can find out more about Oceanfest here.
Other stories: Pink Flamingos encourage women to ride