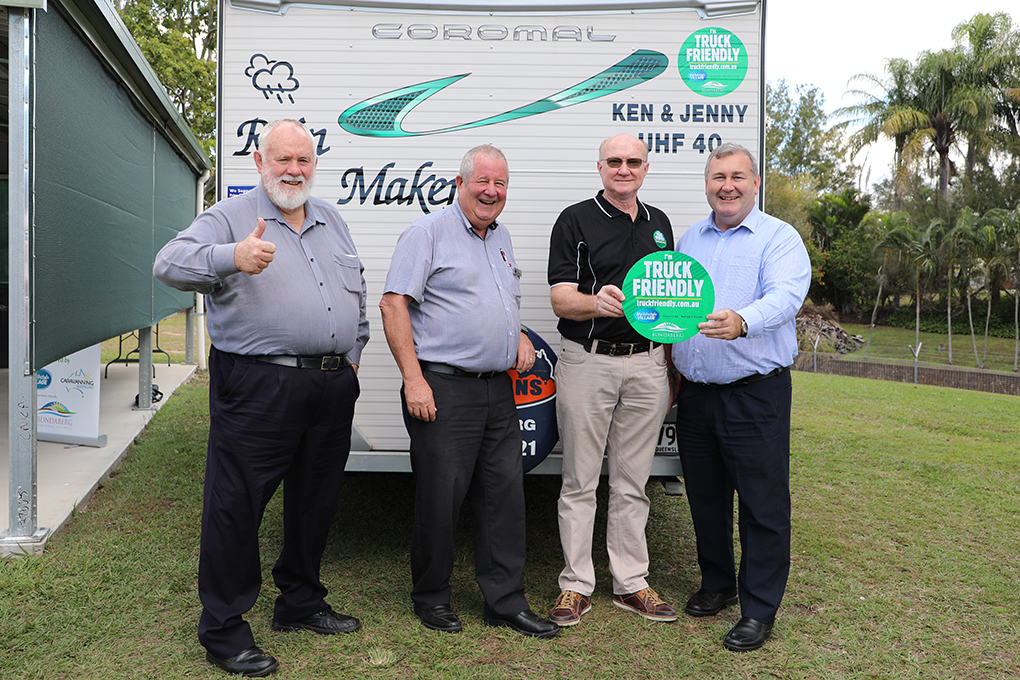 A national Truck Friendly Program was launched in Bundaberg today, aimed at improving cooperation between drivers of caravans, RVs and trucks.
The program has been driven by passionate Bundaberg caravanner Ken Wilson and has been supported by Bundaberg Regional Council and Burnett Heads RV Lifestyle Village.
It is quickly gaining traction throughout the country with support from the National Heavy Vehicle Regulator, Caravan Industry Association of Australia, Caravanning QLD and Australian Caravan Club.
Mr Wilson said truck, caravan and RV drivers had garnered a bad reputation on the road but with more understanding highways would be a much safer place.
"I'm a caravanner, I've seen both sides of it," Mr Wilson said.
"I noticed there's a lot of misunderstanding on how to interact with other road users. Most caravanners want to do the right thing but don't know how.
"After doing a fair bit of research I realised there's really not much out there educating caravanners on how to interact with other road users."
To assist, he has developed a brochure offering tips to caravan and RV drivers on good driving etiquette and stickers to place on vehicles to open the lines of communication with truck drivers.
"I'm trying to make the highway a more friendly environment where there is more cooperation and understanding."
Program urges motorists to think of consequences of actions
He said he wanted his fellow caravan and RV enthusiasts to recognise the impact they're behaviour on the roads could have for truck drivers trying to get home to their families.
"If they're held up on a 10 hour drive… if they're reduced to 90 kmph instead of 100 kmph they're looking to be one hour behind at the end of the 10 hours.
"That means you can't kiss your kids goodnight."
He said truckies often had strict delivery timeframes to adhere to.
"If they miss that loading dock window they may not be able to unload until the next day.
"The knock on effect can be phenomenal.
"I'm trying to encourage a whole change of attitude on the highways starting with the caravans and working all the way through."
He said Councils and organisations all over Australia were starting to take up the initiative.
"Bundaberg Regional Council has taken the lead in supporting this project which is now being followed by other councils around Australia.
"Just this week I've sent off stickers to South Burnett Regional Council and a group of councils in Charleville. They have offered tourism information centres as collection points for stickers and brochures."
He said a New South Wales Council had also flagged an interest.
Truck Friendly Program receives local support
Bundaberg Regional Council Mayor Jack Dempsey said Council was pleased to offer its support to the Truck Friendly Program.
"Bundaberg is well positioned for the launch of this initiative having the highest number of caravan registrations in Queensland and the second highest in Australia," Mayor Jack Dempsey said.
"Any initiative aimed at greater collaboration between motorists to make our roads safer deserves the support of our entire community.
"I certainly would like to see every caravan registered under Bundaberg Region postcodes to proudly display a Truck Friendly sticker and I encourage local drivers to learn more about the important messages behind this program.
"It would not only show our pride in this national initiative being driven from within our community but it could very well save lives on our roads."
RV Lifestyle Village Oceanside manager Amy Boyd said the organisation was proud to be a founding sponsor of the Truck Friendly Program.
RV Lifestyle Village Oceanside is developing a new residential community in Burnett Heads, designed specifically for active travelers.
"When Ken approached us with his vision for the program, we could immediately see how beneficial it would be for the RV and caravanning population of Australia," Ms Boyd said.
"With many of our future residents spending significant time travelling, it's very important to us that they enjoy their time on the road and then return home safely.
"In partnering with the Truck Friendly Program, we hope to spread awareness of the program and champion safe and courteous interactions between trucks and lighter vehicles on the road.
"If just one life is saved due to the Truck Friendly Program, then we truly believe our partnership is well worth the investment. We encourage you to become Truck Friendly."
Ken drives Truck Friendly Program for community
Mr Wilson is no stranger to driving community initiatives, having also been the instigator of the community funded Lake Ellen Heritage Hub initiative.
He has spent many hours working on the Truck Friendly Program.
"Three years ago I came up with the concept and have been working on it since then," Mr Wilson said.
To support the initiative head to the Truck Friendly webpage.