Neuron Mobility has announced that its orange e-scooters have reached one million kilometres on Bundaberg streets since first launching in April, 2021.
The average trip length in the region is 2.5 kilometres, and it's estimated that riders have eliminated 78 tonnes of CO2 by providing an alternative to short car trips.
Bargara has consistently been the most popular place for riders to start and end their trip, with Turtle Park the number one station.
Residents and visitors are also using e-scooters to explore the Bundaberg CBD and visiting local shops and businesses, with Hinkler Shopping Centre and McDonalds in the town centre continually in the top five locations for riders to start or end their trip.
Data showed that in Bundaberg, 62 per cent of e-scooter journeys result in a purchase at a local business, which is resulting in a boost to the local economy.
Neuron Mobility Regional Manager Tim Morris said the company was delighted to have reached one million kilometres in Bundaberg.
"E-scooters are clearly making a positive impact in the city when it comes to reducing congestion and emissions," he said.
"The majority of trips result in a purchase and this is providing a welcome boost to the local economy.
"Overwhelmingly there's been positive feedback from riders about the service.
"E-scooters are a fantastic way to travel around the city and allow community members to see more, do more and spend more.
"We thank our thousands of riders and Bundaberg Regional Council for their continued trust and support."
Bundaberg Regional Council Sport and Recreation portfolio spokesperson Cr Vince Habermann congratulated Neuron on the one million kilometre milestone, which came shortly after the Bundaberg Region was named an ECO Certified Destination.
"It's fantastic to see so many residents and visitors taking advantage of a more sustainable way to travel and reducing carbon emissions, and most of them doing the right thing in regards to wearing helmets, obeying all regulations and parking the e-scooters in an appropriate place at the end of their journey," Cr Habermann said.
"Some riders continue to do the wrong thing, but thank you to Neuron Mobility for continuing to promote safety and for all users to obey all regulations and respect all other roads and pathways users."
Positive results for Bundaberg riders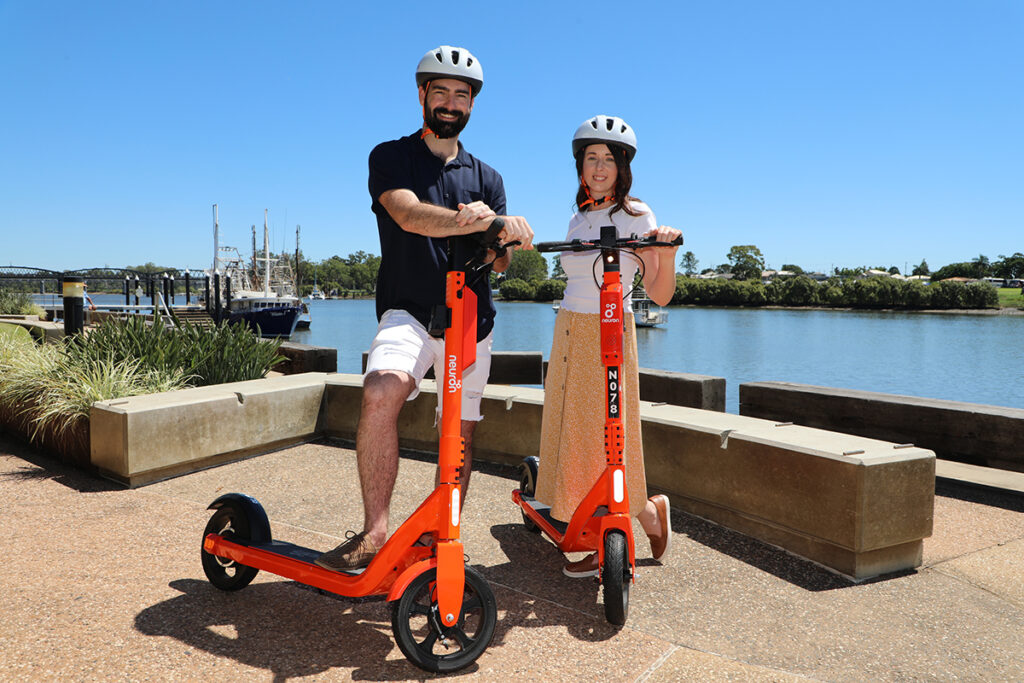 The positive impact of e-scooters in the region was further outlined in Neuron's recent report titled Shared Rides, Shared Wealth.
It found that each Neuron e-scooter contributes $70,000 to local economies per year, and in Bundaberg, this would equate to over $22 million per year based on 325 e-scooters.
The research also goes deeper to determine that 50 per cent of riders spent more than $20 on their most recent trip, with an average of $65 per trip.
The report consisted of rider data and surveys, carried out in 12 cities with over 5000 responses, including Bundaberg.
Asked where riders spend money during their e-scooter trips, 34 per cent said they made purchases at shopping venues, 45 per cent at a restaurant or cafe, and 17 per cent at a leisure and recreational venue like the gym or local event.
Neuron's Neighbourhood Connect program also supports local businesses by turning e-scooter riders into new customers through in-app promotions, designated parking locations and rider rewards.
Neuron's e-scooters have been purpose-built to a commercial grade, specifically for renting.
Geofencing technology controls where they can be ridden and parked, and how fast they can travel in certain areas.
They first launched in Bundaberg and Bargara with 250 e-scooters in April 2021, then in August 2021 and again in January 2022 the riding zone expanded allowing greater access to e-scooters in the suburbs.
Neuron now operates 325 e-scooters in Bundaberg, Bargara and surrounding areas, all are fitted with safety features including; an app-controlled helmet lock, voice guidance, a Follow My Ride feature, an emergency button and topple detection.