Help the reef win, put your butts in the bin. That's the message from St Joseph's School student Baillie Cross whose sign design was chosen to be installed at the rotunda at Turtle Cove Park.
The sign is part of a project run by the Burnett Local Marine Advisory Committee which promoted schools in the region to design a sign to stop littering in the community.
Out of six schools, Baillie's design was chosen to be installed by Bundaberg Regional Council at the rotunda in Turtle Cove park.
This identified as an apt installation site after eco-warrior Elijah Richardson identified a high volume of cigarette butts there.
The seven-year-old has been cleaning up the region's coastline and collected hundreds of cigarette butts in a matter of days at the Innes Park site.
"We came here regularly and then one day I said to mummy after school one day, let's pick up all the cigarette butts," said Elijah.
"We just started doing and the first time we found 157 cigarette butts, so I really hope this sign will stop them because it's just so bad."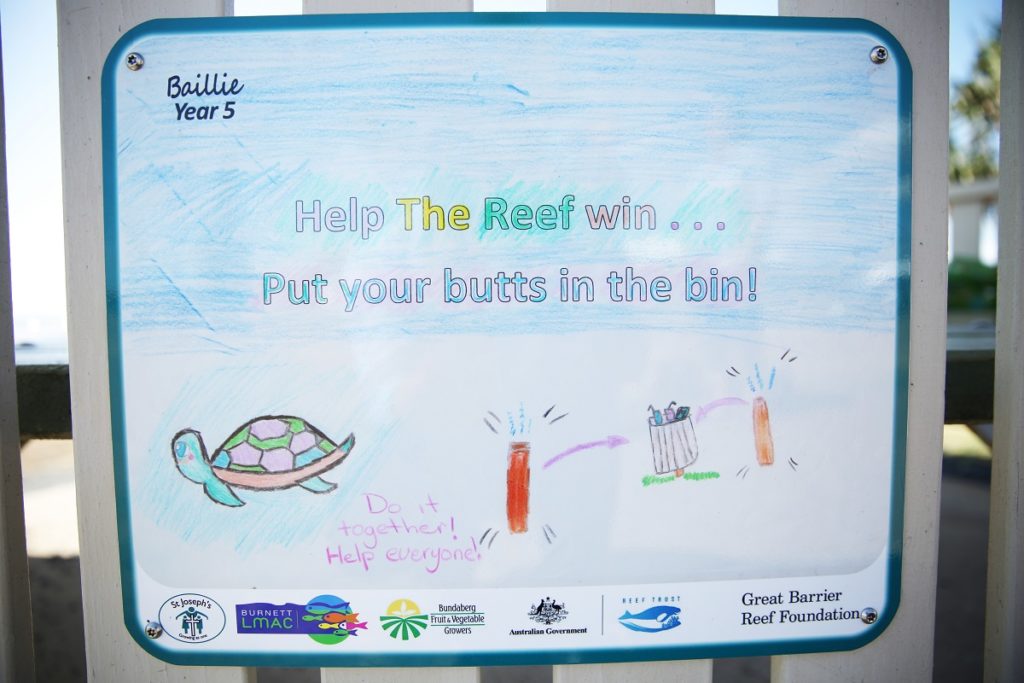 The sign includes a turtle and the words "do it together, help everyone".
Speaking about its design, Baillie said she hoped the sign would help improve littering habits to safeguard the regions sea life.
"In the picture I included turtles because they are the most threatened animals when it comes to litter and rubbish," she said.
"There are a lot of turtles and fish that have been hurt by just fishing lines, water bottles, and microplastics so I included cigarettes and rubbish in the picture and it being put into the bin as it's very important to keep rubbish in the bin and not out on the ground."
St Joseph's assistant principal Trish Garrad said the project to design a sign coincided with funding from Burnett Local Marine Advisory who assisted with funding.
"This particular project was really driven by the students as they were very concerned about how much litter they were finding, particularly cigarette butts in huge numbers in certain places and they really wanted to do something about it," Trish said.
"They often say 'can we put up signs', so when Sue Sargent from Burnett Local Marine Advisory Committee said they had some funding for a signs project we said 'we're in'."
That project manifested into Baillie's sign which is now a reminder to smokers to bin their butts.
Trish said the students were excited to see the tangible outcome.
"The kids have been very keen and really excited and they're really proud to see something has been done about it," Trish said.
"To have Council on board, identifying that there are cigarette butt hot spots around our community that need cleaning up, or bins or signage installed, we're really grateful that they've come to help us with this."