In this week's fishing report, Dale from Tackle World Bundaberg tells us about all the spots that will be fishing well this weekend.
Firstly, I wish all the mothers a fantastic day for Mother's Day on Sunday.
At this stage the weather is looking fantastic to get outdoors and make the most of what Bundy has to offer.
Lake Monduran
Lake Monduran was another popular destination over the Labour Day long weekend.
With the water temperature in the low to mid-twenties, plenty of barra up to 105cm were landed on both soft plastics like the Squidgy Slick Rigs and suspended hard bodies like the Jackall Super Squirrels accounting for plenty of big barra.
The next month should fish well before the cooler weather kicks in.
Bundaberg offshore
As I mentioned earlier, the forecast is looking good at this stage for the bigger boats to have a crack offshore this weekend.
At this time of year red emperor, grass sweetlip, parrot and hussar should all be on the chew.
Let's hope we all get a few more opportunities to head offshore over the next few months.
As always, check the weather report before heading out.
Bundaberg inshore
All the inshore reefs will be popular this weekend.
With the amount of bait fish off the reefs, pelagic species like mackerel and tuna are around in big numbers.
There has been a few nice snapper, grunter and grass sweetlip caught on the inshore reefs of Bundy.
The first signs of winter whiting have showed up with the slightly cooler weather along with a few nice squid.
Burnett River
The Burnett River is one of the few systems in this area that has not been affected by a fresh water flow this summer, and continues to fish well leading into the cooler months.
Bream, flathead and whiting were keeping anglers entertained over the long weekend.
The first signs of blue salmon have just showed up in the Burnett River.
These are a fantastic sports fish and can be caught using many different techniques.
There have been good reports of prawns still being caught in all the usual haunts, along with a few muddies.
Lake Gregory
This fantastic small impoundment often gets overlooked, but the Australian bass and saratoga have been on the chew.
Casting small poppers early along the lilies and weed edges is always exciting.
As the day heats up, try using blades and soft plastics in the deeper water on the bass that tend to school up.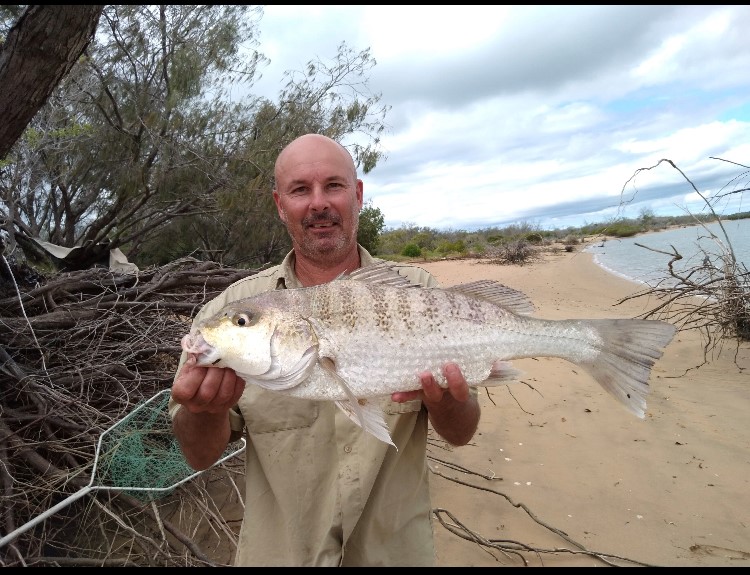 Fish with confidence
Dale Smith